Canvey Island Rugby Club is a relatively small club based on the Estuary of the Thames. Promoted for the second year running, the 1st XV will be playing in division London North East 4.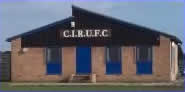 We run 3 senior sides: 1st XV, 2nd XV – The Stacks, 3rd XV – The Gnus. Occassionally we manage to field a 4th XV. The clubs colours are royal blue and scarlet hoops (check out our male model !) . We also run a couple of youth sides, and are actively looking at increasing this section.
Apart from the attraction of playing the greatest game on Earth (Rugby Union of course!), the social side that rugby offers is second to none. Canvey Island Rugby Club is no exception. We pride ourselves on our hospitality and welcome visitors gladly.
Our club has many members who do not play rugby, but purely enjoy the social aspects that

the club has to offer. With beer at £2.10 a pint and shorts at £1.30, it's no wonder our social events go with a swing. With this said, Canvey Island Rugby Club is a members only club. You may use the clubs facilities if you are a member or have been signed in by a member. New members are always welcome and a price guide to membership can be found in our membership section.
For further information please e-mail contact@cirufc.co.uk.