Canvey Island Rugby Football Club was founded in November 1970 by a selection of local players who wanted to play rugby locally instead of travelling to clubs situated off the Island .

With some borrowed shirts and only 13 Players, Canvey played their first game and won 18-0 against Mid Essex Tech at Chelmsford . Of that original group of players, 'Biff' Smith is still playing! (well sort of!), whilst Mick Norris is the ex-chairman of Essex R.F.U.
At first all games were played away, and by 1978 the club had begun to field three sides every week. Finally in 1979 the club was granted two pitches at it's current home of Tewkes Creek, where in 1983, by a joint effort of many club members, a clubhouse and bar were built.
The club had now transformed from being a pub-based side to a club with it's own facilities.
In the late 1980's a link between the Essex Education Authority and Cardiff College, saw an influx of Welsh PE Teachers 'don' the Red & Blue hoops of Canvey. With the help of these players Canvey began their rise up the league system, culminating in playing in London NE3 and reaching their first Essex Cup Final. It was here in 1989 that they lost by one point to Chingford.
As the bubble 'burst' and the PE Teachers returned to the land of sheep, the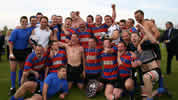 clubs promising youth side took over the reigns. They managed to keep the club in the London leagues for a good few seasons, and managed another cup final. This time they met Campion, where again Canvey were beaten.
As these set of players began to retire towards the late 1990's early 2000's, a void was left which saw a lot of youth players being brought up early, and struggled with senior rugby.
With players perhaps lacking self belief and self confidence, rather than lacking ability, Canvey ended up being relegated into Essex 2.
It was a difficult time for the club, and enough was enough. With a new attitude towards training put in place, and a fantastic team spirit, a relatively young team came of age.
With a group of players all born and bred 'Islanders', Canvey had their most successful season ever in 2004/5. A League and Cup 'double', and an unbeaten season record of 24 winning games.
This lead to promotion into Essex 1. The sceptics at the time thought a mid table position at the end of the season, would be the best the side could hope for. The players felt differently! 2005/2006 culminated in Canvey reaching the Essex Intermediate Cup final, losing out to a good side in Rochford from London NE 3.
They held 2 nd position in the league, meaning they went into a playoff final against Eastern Counties side, Mersea Island , to see who went into the London Leagues. A pulsating game took place, that had everything. It went into extra time and the boys from Canvey proved their worth. 2 Cup finals, 2 Promotions inside 2 years. All with the very same side that got relegated all that time ago! 2006/2007 sees Canvey Island in London 4 NE!